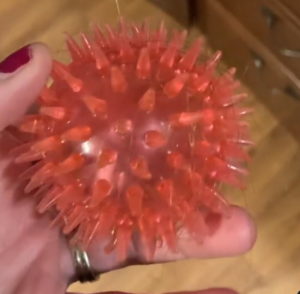 This spiky toy ball got stuck in Steph's daughter's hair this week!
She called her husband to ask how their daughter was going, and hearing YOUR stories about what got stuck and how you got it out – listen here:
Watch more here:
View this post on Instagram
Then the stories about items getting stuck in your kid's NOSE started rolling in!
Karaoke Matt about his brother when they were younger – needed nose surgery!? Listen here:
Matt's brother then called right after hearing the story on Q106 – listen here to his reaction and how his nose is doing today:
Call with your stories 608-321-1063 or email Steph HERE!