The debate can be as big as turkey vs ham for Christmas dinner. Do you go real or fake with your tree?
We have a gorgeous fake tree in our living room, but it doesn't quite smell/feel the same.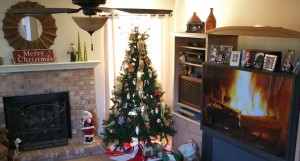 Then again, if you have a nice smelling real tree, and four legged family members, they like to jump into the tree, or mark the trunk.
Would you rather be real or fake for your Christmas Tree?
do you like yours real or fake? @etsy #etsygift #ring #handmade #tree #chicago #gift #love https://t.co/oZbQQbMUbX pic.twitter.com/1Mj791kGYR

— truth or wear (@shoptracyburton) November 22, 2015