Valentine's Day is tomorrow. If you're looking for a romantic movie to watch with your "sweetheart", Timeout released their list of the 100 Best Romantic Movies. And as you can imagine with a list of 100, there's a lot to choose from.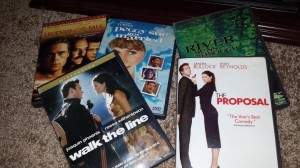 Here are a few of my personal "favorites" (*some didn't make their list).
*A River Runs Through It
*Walk The Line
The Bridges of Madison County
*The Natural
Sleepless In Seattle
It's A Wonderful Life
*Meet Joe Black
*The American President
*Legends of the Fall
Pretty Woman
Vertigo
*Forest Gump
What are your favorite Romantic movies? Happy Valentine's Day!
-Justin Brown