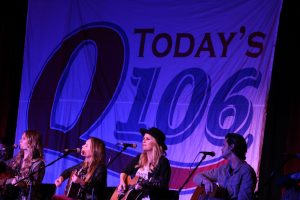 Today's Q106 Storyteller's Jam 22 is coming to Monona Terrace on October 15, 2017! Here's a timeline for ticket sales:
-August 16th Today's Q106 Country Club members will receive an email with details regarding the VIP ticket lottery. Members must register for the lottery to be considered for the random drawings.
-VIP tickets are $100 per ticket and you'll be able to request 1, 2 or 4 VIP tickets. VIP tickets include reserved table seating at the front of the house and a pre-show meet-n-greet session with all of the artists performing that night (this session also includes appetizers and cash bar).
-August 21st VIP ticket lottery winners will be contacted by phone. All VIP ticket purchases must be made at that time (with a credit/debit card).
-August 23rd General admission pre-sale email will be sent to Today's Q106 Country Club members. Tickets will be available until 12pm on August 24th at a discounted price of $35 while they last.
-August 24th Remaining general admission tickets (if any) will be sold to the general public for $40 at Q106.com starting at 12pm.
-Don't forget to follow our Today's Q106 Storytellers Jam 22 FB Page HERE to get up to date info on the concert and Mystery Artists!
-This concert is a benefit for American Family Children's Hospital in Madison.