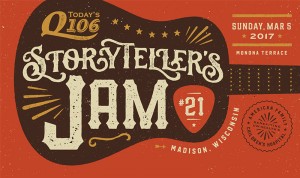 Today's Q106 Storytellers Jam 21, presented by Settlers bank, is coming to Monona Terrace on Sunday March 5th, 7:30pm.
THIS SHOW IS SOLD OUT!
Who will it be? You will find out when all of the acts are introduced on stage! It will be an amazing variety of males, females, veterans and up-and-comers. Let the rumors begin!
As always:
-This concert is a benefit for American Family Children's Hospital in Madison.
Sponsored by La-Z-Boy Home Furnishings + Decor, The Levy Family Giving Fund, Bobbers Island Grill in the Dells, Middleton and Prairie Power Centers, Red Rock Saloon and Remedy Intelligent Staffing!