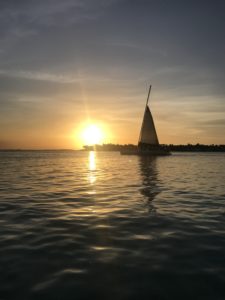 Hey it's HOOPS ON THE RADIO!  They asked me to talk about myself….I'm not good at it!  Here we go!  I love to be on the water for skiing and boating, I love being in the Florida Keys, I love to cook, I read and write a lot lately, I can play the drums, and I am very close with my family and friends and often spend time with them!  I also love live music so I will be back at it once this Covid stuff is over with!
I also really enjoy emceeing and DJing large scale events and weddings so I have a side thing with it so maybe I'll be the DJ at the next wedding or event you're at, once the world reopens! I have been one of the DJs at the Chicago Cubs Convention (Brewers Fan thou), hosted in Nashville, and I have been a part of many families BIG days as I played host and DJ for their wedding day!
Other random facts….I have done stand up comedy and love doing it….watching someone laugh is the best! I hate puzzles, I love bonfires, I highly dislike porta pottys, I love the smell of clean laundry, I hate video games, I love being social, I hate the Bears , I love the Packers, I highly dislike TOFU, I love traveling and staying at nice hotels, and I enjoy fall and everything about that time of year!  Lastly I love that you take time out of your night to listen to my show!  Thank you!
Email me today at Hoops@Q106.com!
Check back often as I will be updating this a lot with different things for you to check out!