Feel free to email me anytime. I thank you for listening now, and ask you to keep listening as we work to make Today's Q106 the best it can be for you.
I like these folks! 
Officially Fletch-o-mmended List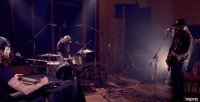 In England, The Cadillac Three are literally rock stars. They sell out every venue they play, and are regarded as American Southern Rock gods. Check 'em out getting a chance to record at England's most famous studio.