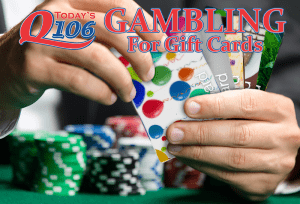 Are you ready for the holidays? Yeah, neither are we … but we are ready for Jackson and Andi's Gambling For Gift Cards!
It's our coolest game of the year: We have a stack of gift cards in envelopes. You open as many as you want, but if you hit COAL … you lose it all!
VISA CASH CARDS | RESTAURANTS | BARS |CONCERT TICKETS | FURNITURE | …AND MORE!
And by "more," we mean you could win seats on Today's Q106 Party Bus to see Eric Church at the Fiserv Forum, tickets to a private show with a secret "established" Today's Q106 artist and a $500 La-Z-Boy Home Furnishings + Decor gift card  … and let's just keep the rest a surprise!
Gamble For Gift Cards every weekday at 8:12am with Jackson and Andi and again at 11:12am and 3:12pm! We'll find out if you've been naughty or nice soon enough!
 Special thanks to our fantastic Santas:
Contest Rules:
In addition to General Contest Rules…..

1. Contest will begin on 11/5/18 and will end on or before 11/30/18. Contest may be ended at any time.
2. Contest plays will be at approximately 8:12am, 11:12am, and 3:12pm, Monday through Friday during the dates of the contest, except on Thanksgiving Day.
3. Designated caller (caller #1 at 608-321-1063) will be permitted to open one envelope at a time and will win whatever prize is contained in each envelope.
4. Contest play is over when caller chooses to quit, or opens an envelope that contains "coal."
5. Caller keeps all prizes awarded up to point he/she chooses to quit. If caller opens an envelope that contains "coal" before choosing to quit, caller forfeits all prizes.
6. Approximate prize value will be equal to the value of the prizes successfully opened in each envelope.