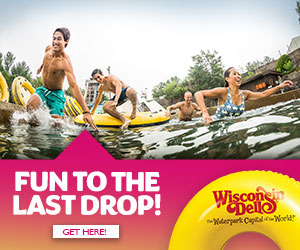 Be cool this summer! Everywhere Today's Q106 goes in April and May, we'll be packin' stacks of Wisconsin Dells Season Opener Cards! You'll save hundreds of dollars on summertime family fun!
Look for Today's Q106 at these upcoming events:
April 21
Fathead Country Campers
W7419 Co Rd V, Lake Mills, WI 53551
11:30am – 1:30pm
April 21
US Cellular – Verona
611 Hometown Circle
3:00pm – 5:00pm
April 27
US Cellular – Waunakee
245 S Century Ave
4:00pm – 6:00pm
April 28
Madz Auto – Madison
1619 S. Stoughton Rd
11:00am – 1:00pm
May 28
Schoepp Motors
Location TBA
2:00pm – 5:00pm
__________ Dells Season Opener Cards FAQ __________
Can I pick up books for other family members that can't make the appearance?
• No, to make sure that we get the 2018 Wisconsin Dells Season Opener cards out to the people who joined us at that event we must only give out two (2) cards per person (all ages are welcome).
Can I pick up more of them up at the radio station?
• No, all of the 2018 Wisconsin Dells Season Opener cards will be distributed during appearances. You can find these appearances listed on the calendar section of our website, www.q106.com.
Do babies need a 2018 Wisconsin Dells Season Opener Card?
• Not for all attractions, but to be safe we recommend having a card for children at or near the age of one and older.
How will the cards be given away?
• A line will be formed leading up to the start time of the appearance.
Are there different versions of the 2018 Wisconsin Dells Season Opener cards?
• Yes there are different versions. Unfortunately, the on-air talent, other Today's Q106 representatives, and the host business owner do not know which card will be given away at the appearance.
Will I be guaranteed a card if I come to the appearance?
• It is always our main goal to have everyone get a card. Supplies are limited, so we suggest you get there 30 minutes prior to the start time of the remote to secure a place in line and heighten the chances of you getting a card. If you do not get a card that day, please go to www.q106.com and look at the calendar section for your next opportunity to get a pair of the cards.
Can the people handing out the cards make special exceptions with the amount of cards they give out per person?
• No, the Today's Q106 staff has been instructed by the Wisconsin Dells to only hand out two (2) books per person during the appearance.
Can I get back in line after I receive my card to get another one?
• No, The cards will be distributed two per person per live broadcast.
Can I sell my extra cards?
• Absolutely not! Today's Q106 and the Wisconsin Dells have entered a partnership that no cards will be sold or bartered. If this happens here, online, or in the Wisconsin Dells, we will lose the opportunity to have them distributed in our community.
Are there any restrictions?
• Yes, admission is subject to availability on a first come basis. See individual attractions on the card for details.  Cards are valid May 25 – June 28, 2018.