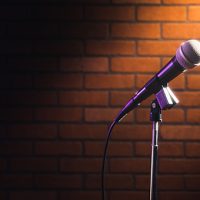 Jackson and Andi have their 10 students for their FIRST Laugh Academy
Where: The Comedy Club on State St.
When: Wednesday, April 25th. 7-8pm
All ten performers will be entered in a random drawing for a pair of tickets to Kenny Chesney's "Trip Around the Sun" World Tour at Miller Park in Milwaukee April 28th!
We invite YOU out for a night of laughs for a good cause, the American Family Children's Hospital. Tickets are $5 and available at the door night of the show.
In addition to general contest rules, each participant will be required to visit Today's Q106 Morning Show with Jackson and Andi to receive their stand-up training between April 9, 2018 and April 20, 2018.   Participants will be required to attend the event at the Comedy Club on April 25, 2018 (participants must arrive by 6:30pm and the event starts at 7pm).  Each participant will be given the opportunity to do a 3 minute stand-up comedy set.  At the end of the event, all ten performers will be included in a random drawing to receive 2 tickets to see Kenny Chesney at Miller Park on April 28, 2018 (please note, participants will not be judged on their performance, all 10 participants will have the same random opportunity to win).