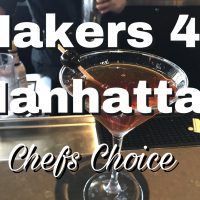 This week we were at Bonefish Grill off Mineral Point Rd right next to the West Towne Mall in Madison, Head Bartender Heather showed us how to make one of their signature cocktails, the Makers 46 Manhattan also known as Chef's Choice. Some of their ingredients are infused and you may be thinking "where am I gonna find that!?" well if you can't find one of the ingredients then just make with what you have handy, but if you want the real deal be sure to stop in to Bonefish Grill!
Driections:
2 oz Makers Mark 46
1 oz Manhattan Mix infused with Rosemary & Orange Peel
2 dashes of Bitters
Stir DON'T Shake
Strain and garish with a Cherry
Enjoy!