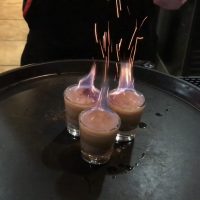 Our buddy Bartender Mike at Coach's Club in Cross Plains showed us how to make one of their signature shots, The Campfire Shot! This tasty creation does involve fire, so if you have that one friend who could burn themselves in dish soap this drink is not for them, seriously though, dont burn your eyebrows off, you will always look surprised. – J&A
Directions:
Made in Shot Glass
Fill half way with Kahlua
Fill other half with Cream Liqueur (usually Baileys Irish Cream)
Top off with Yukon Jack (100 proof)
Light on fire
Sprinkle Cinnamon on top
BLOW OUT BEFORE DRINKING! You have been cautioned twice now, no excuses!!