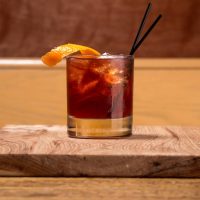 Every Thursday we will show you how to make a different drink, today we are doing a Wisconsin classic, the Sweet Brandy Old Fashion! The video below will show you a step by step process to make the perfect Sweet Brandy Old Fashion!
Heres a list of what youre going to need…
Ingredients:
1 sugar cube
Maraschino Cherries
Orange slices
Aromatic Bitters
Sweet Soda (7up or Sprite)
1.5 – 2 oz Korbel Brandy
Directions:
Add sugar cube, 1 orange slice, 1 maraschino cherry and a slash of sweet Soda to glass, muddle (lightly mash),
Add ice to glass, pour 1.5 – 2 oz of Korbel Brandy and top off with sweet soda.
Garnish with orange slice and maraschino cherry and enjoy!