Saturday April 28th!
Thank you- Jackson's team is now complete!
Day of event info will be sent to you the week of Hammer With A Heart!
Jackson Jones, from the Today's Q106 Morning Show will lead your team of do-gooders.
Spend the day together, helping make a home warmer, safer, or drier for one of our neighbors in the Madison area who otherwise couldn't afford to do it.
No skills or experience required!
Our day will begin at 10:00am on Saturday April 28th. A free lunch, water, and soft drinks will be provided.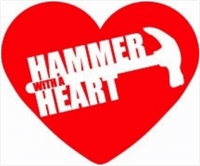 We should finish sometime between 3:00 and 4:00pm.

Learn more about Hammer With A Heart here.

 

 

Tags: