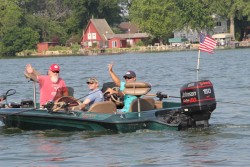 Today's Q106 and Pharo Marine are teaming up with Take A Vet Fishing for their free fishing day for vets in June!
What: Take A Vet Fishing- a free day of guided fishing and celebrating veterans. No equipment required.
When: Sunday June 11th, 2017 5:30a-7a Check-in, 7a-11a Fishing on Lake Waubesa, 11:30a Veterans Honor Party.
Full schedule is here.
Where: Babcock Park, McFarland, WI
How: Veterans sign up here. Volunteers sign up here. Guides sign up here.
More: Find out more at Pharo Marine when Fletcher Keyes broadcasts live on Saturday 2/25 from 11am to 1pm.