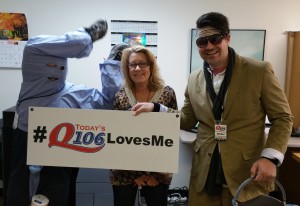 Have you ever gone "reverse" trick or treating? It's where the treats come to you, and you don't even have to dress up. The Today's Q106 team visited several random listeners with gift bags as another way to show you how much "Today's Q106 Loves Me." Keep listening, and interacting with Today's Q106, and you could be the next to get a surprise visit.
Fletch was an "Upside Down Guy" and Noah was Richie Tenenbaum From The Royal Tenenbaums.
Happy Halloween! How was your Halloween weekend?