Yes, there's another body at the breakfast table now. Or at the coffee counter, or in the car with you if you listen to Jackson and Ashley in the morning on Today's Q106. I hope to make it worth it to you for letting me in.
I did morning radio in Madison for 18 years, loving it, mostly (alarm clock, not so much). Now I'm kinda back, supporting J and A by doing the "Three Things You Should Know" feature around 6a, 7a, and 8a each weekday morning. It's a bit easier for me now that I can do it from my kitchen and still be able to get my daughter out the door to school!
Here's a look at what my world looks like early in the morning.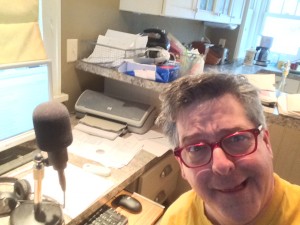 I'd love to know what you're doing between 6 and 8 in the morning!
Comment below and let me know where you are when you listen in the morning, and THANKS for listening!